Newman Hall
Newman Hall houses 140 male freshman and sophomore men. Each suite consists of two rooms connected by a shared bathroom. The hall also offers students a community lounge and study area on each floor. Students also have full access to a kitchen.
Resident Director: Corey Hollis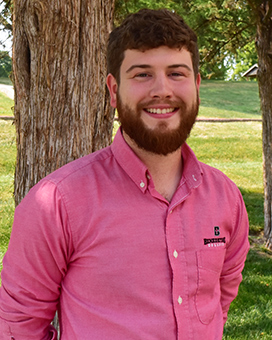 Corey is a Kansas native and Benedictine grad from the class of 2020. He earned a bachelor's in marketing and a minor in Entrepreneurship. While a student, Corey served as a Resident Assistant for three years: three semesters in Turner Hall, 1 semester in Florence, and 2 semesters in the campus houses. This is Corey's second year in the role of Resident Director for Newman Hall. Corey and his wife, Claire (an admissions counselor for the college), welcomed a new Raven, Oliver John, into their family in February of 2022. The young family enjoys trips to the mountains and the lake whenever they get the chance, and look forward to another year of serving the college community!
Room: 10' x 15'
Closet: 2'10'' x 2'6'''
Desk (top): 3'6'' x 2'
Window (includes blinds): 4'5'' x 2'
Bed: Twin XL mattress, 14.5'' under bed height
Dresser (6 drawers): 23'' x 14'' x 7''
Hall Information
Appliances: The hall has a kitchen with a full size refrigerator, oven and range as well as a BBQ grill.

Bathrooms: Four residents share one bathroom.

Furniture Supplied: Two bunked beds (must remain bunked), two desks/dressers, two desk chairs, two closets, one sink.

Handicap Accessible: There are handicap accessible rooms on the first floor.

Laundry & Vending: Laundry facilities and vending services are available on the first floor.

Lofts: Lofts are not permitted.

Lounges: There are four lounges. The lounges are open 24 hours to the residents of the hall.

Recreation: Newman Hall has a pool table and a ping-pong table.

Hall Chapel: Newman Hall Chapel is located on the ground floor of Newman Hall. Mass is offered in this chapel one morning a month and on St. John Henry Newman's feast day, October 9, for the residents of Newman Hall and other men on campus. The chapel can accommodate approximately 30 students. The chapel offers 24 hours a day, 7 days a week adoration of the Blessed Sacrament.

Room Dimensions: All rooms are approximately 10' x 15', but sizes may vary.

Security: There are locks on each room door. The external doors are locked 24 hours a day 7 days a week but can be opened with a student ID card.