Points of Excellence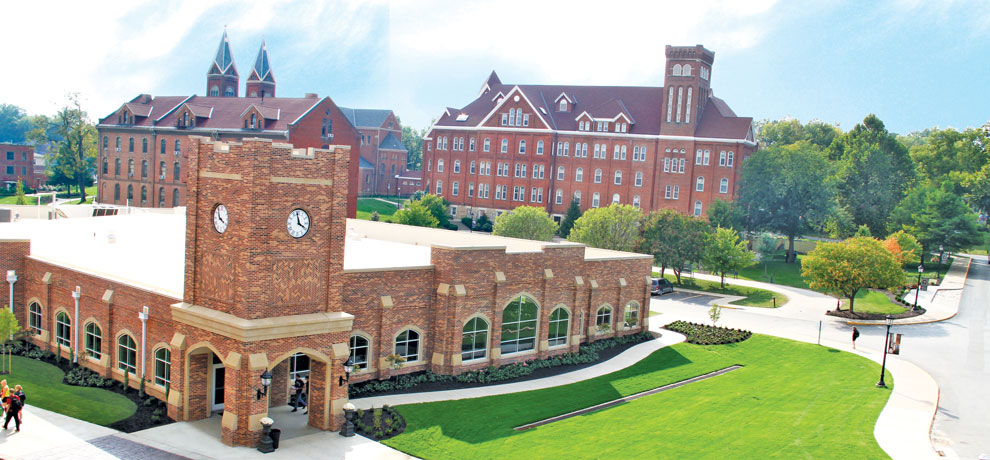 National Recognition

| Building one of the great Catholic colleges in America

The plan Benedictine 2020: A Vision for Greatness is garnering recognition for Benedictine College.

Lists & Rankings:
Top 10 Best College — U.S. News & World Report.
Newman Guide — One of America's best Catholic colleges.
Best in Kansas — CollegeSimply.com
Best Private — TheBestSchools.org
Hidden Gem — CollegeRaptor.com
A Top 50 Nursing Program and a Top 25 Great Books Program.
Since 2000, alumni achievements include:
13 bank presidents, including Tom Hoenig '68, former President of the Federal Reserve Bank of Kansas City, and a current vice chairman of the FDIC.
8 university presidents, including Boise State, San Jose State, and the University of Pittsburgh.
7 bishops and 200 pursued religious vocations.
2 Kansas Secretaries of Commerce.
1 Nobel Peace Prize Laureate, the late Wangari Maathai '64.
Community

| Dynamic Campus Life

Benedictine College's student life program is used as a model for Catholic schools nationwide. 

Enrollment increase. After two decades of enrollment increases, the college expects to match or beat Freshman and total enrollment numbers this year.

New residence halls. Benedictine has opened 10 new residence halls since 2004.

Residence Life. In the respected SSI survey judging student satisfaction, Benedictine College beat the national average in 11 of 12 categories, and virtually tied in the 12th. The college scores significantly higher in seven categories including: Campus Climate, Concern for the Individual, and Student Centeredness

New community buildings. The college's new Murphy Recreation Center and Dining Hall are centers of fellowship.

Active campus. A total of 1,351 residence life programs were offered to students last school year. Benedictine is famous for unique traditions, from Beanie Week to Commencement's March of Light.

Marching Band. The new Raven Regiment performed in Daytona, Fla., as Raven Football played in the NAIA Championship game.

Winning decade. In the last 10 years Raven sports teams have three national championship game appearances, four Final Fours, 50 national tournament appearance, 26 Conference championships, 80 All-Americans, 200 NAIA Scholar Athletes, 1,000 All-Conference players and 19 coaches of the year.

Commissioner's Cup. Benedictine won the 2019 Heart Commissioner's Cup, winning four Heart Championships and two Kansas Collegiate Championships while Raven athletes' GPA was over 3.0 and 12 programs were named NAIA Scholar Teams. Also: 149 student-athletes were named to the Dean's List, 71 were named to the President's List, 41 were named Daktronics-NAIA Scholar Athletes and 72 were named Heart Scholar Athletes.
Faith

| Flagship College of the New Evangelization

Consecrated to Our Lady, Benedictine College is the birthplace of the Fellowship of Catholic University Students (FOCUS).

Top 5. The Catholic Campus Ministry Association named Benedictine College's program among the top five campus ministries in the country.

New chapels. The college has built three new chapels since 2012.

Sacred art.The Sacred Heart (sculpture by E. Spencer Schubert) was enthroned on campus. The college added outdoor statues of St. Benedict, St. Scholastica, St. Teresa of Calcutta, and Our Lady of Grace.

Faith leadership. New York Cardinal Timothy Dolan was the college's recent commencement speaker. Benedictine was chosen to represent higher education at the Vatican and U.S. bishops' meetings.

March for Life. Benedictine recently led the March for Life in Washington, D.C., where it has sent the most students from furthest away.

Service. One in three  students participate in mission trips, including 14 countries on four continents. Hundreds of students skip meals weekly to provide 10,000 meals annually to area needy via the Hunger Coalition.

The Memorare Army for Religious Liberty has gathered 3 million Memorare pledges for religious freedom.

The Symposium for Advancing the New Evangelization annually brings top scholars and national speakers to campus.
Scholarship

| One of America's Best Colleges

49 majors include Chemical, Electrical, Civil, and Mechanical Engineering, as well as Nursing and Architecture.

Science building. The college constructed the finest science and engineering building of any small college in America, to be dedicated in the 2019-2020 school year. 

Benedictine 2020. Since 2012: Five new academic buildings including the new Daglen Observatory, two endowed professorships, and graduate placement services.

Top students. The most recent freshman class has the highest average ACT scores in Kansas, and the highest GPA in the school's history. 35 National Merit Finalists receive full-tuition scholarships to Benedictine College.

Top faculty. Dozens of our professors rank in the top 10% of the national IDEA faculty evaluations each year.

Rome Prize. History Department Chair John Romano in 2018 was awarded the prestigious Rome Prize, which has been called "the Pulitzer Prize of the Humanities."

Engineering excellence. Engineering faculty at Benedictine College include 10 PhD professors with 11 patents. 9 of 10 Raven Engineers are offered jobs as students, with an average $65K starting salary.

Graduate acceptance. 100% Medical school acceptance rate. 100% CPA Pass rate. Nearly 100% Nursing boards passed.

New species. The National Science Foundation awarded Graduate Research Fellowships to two students who discovered a new species of microscopic tardigrades.

Superbugs. Chemistry professor Dr. Larry Sutton recently received two antibiotic patents to battle "superbugs."

Science mission. To be the Catholic, liberal arts college that educates engineers, doctors, scientists and health care professionals for the 21st century.

Observatory.  Vatican astronomers helped inaugurate our Astronomy Department's new Daglen Observatory.

All-Steinway School. Named an All-Steinway School by Steinway & Sons. 

Study abroad opportunities include our Florence, Italy, campus plus 50 other countries.

Leadership. Benedictine students are more likely to have an internship, hold a leadership role, study abroad, work directly with a faculty member, and complete a senior project than students at peer schools.

Programs of Distinction at Benedictine include the Honors Program, the Gregorian Fellows leadership program, STEM Fellows, and Constitutional Fellows — as well as the Discovery Program, Great Books, and the Thompson Fellows investment program.