BCYC Leadership


Principles of Catholic Leadership Track
Are you interested in learning more about who you are and what you have to offer as a leader? Do you want to learn how to effectively lead your peers without compromising your integrity? How to motivate a team or deal constructively with conflict? How to formulate a vision and design an action plan? If you are interested in developing these and other skills as a leader then the Principles of Catholic Leadership program for high school students is for you.
Track Instructor
Dr. Joe Wurtz
Dean of Students & Executive Director of the Gregorian Fellows at Benedictine College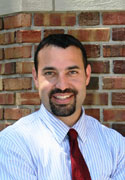 Dr. Wurtz received his BA in philosophy from Benedictine College, his Master's degree in Higher Education Administration from the University of Kansas and his doctorate in Higher Education Administration at The George Washington University in Washington, D.C. He worked as a Resident Director at Benedictine and as Director of Student Activities. He served as the Dean of Students at Christendom College in Front Royal, Virginia, before returning to Benedictine.
Wurtz served as a FOCUS missionary at Benedictine College from 1999-2000 and at the University of Denver from 2000-2001. He has served on the Board of Directors for FOCUS. He and his wife, Megan, live in Atchison, Kansas, with their six children.