Dr. Julie Sellers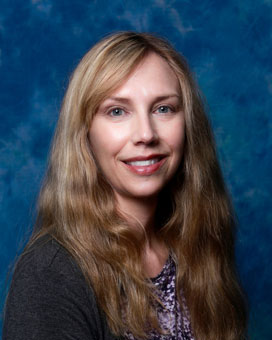 Position Title: Chair and Associate Professor
Department: World and Classical Languages and Cultures
Office: St. Benedict Hall 316
Phone: 913.360.7544
Contact Dr. Julie Sellers
---
A native of Kansas, Dr. Julie Sellers earned Bachelor's degrees in Spanish and French and a Master's in Spanish Literature from Kansas State University, and a Master's in International Studies and a Ph.D. in Education from the University of Wyoming. Dr. Sellers is a Federally Certified Court Interpreter (Spanish <> English), and a state certified court interpreter (Colorado, Missouri, Nebraska, West Virginia, and Pennsylvania—Master Interpreter).
Dr. Sellers was named the Kansas World Language Association's Teacher of the Year in 2017.
Dr. Sellers's research interests include best practices in adult second language acquisition, Caribbean popular culture and identity, and interpreter training. She has published in all of these fields, including three books on Dominican music and identity: Merengue and Dominican Identity: Music as National Unifier (2004) and a bilingual text, Bachata and Dominican Identity / La bachata y la identidad dominicana (2014), and The Modern Bachateros: 27 Interviews (2017), which was the winner of the Kansas Author Club's It Looks Like A Million Award (2018). In 2018, Dr. Sellers coauthored and published Intermediarios: Introduction to Spanish<>English Community and Legal Translation and Interpreting with Dr. Laura Kanost (New Prairie Press).
In addition to these topics, Dr. Sellers has applied her work in literature and identity to studies of Anne of Green Gables. Her peer-reviewed article on Anne of Green Gables as a quixotic novel was published in the Journal of L. M. Montgomery Studies. Her scholarly/personal essay, "'Just as if I Was a Heroine in a Book': Quixotic Identification in and with Anne of Green Gables" is forthcoming in Kindred Spirits: Reflections on Our Relationship with Anne of Green Gables," edited by Nike Sulay and Jess Carniel.
Dr. Sellers's paper, "From Radio Guarachita to El Tieto eShow: Bachata's Imagined Communities," was awarded the Guy Alexandre Paper Prize by the Latin American Studies Association Haiti Dominican Republic Section in 2020.
Prior to coming to Benedictine College, Dr. Sellers taught at Fairmont State University (Fairmont, WV), Laramie County Community College and the University of Wyoming (Laramie, WY). She also worked for the Wyoming Department of Education as the Foreign Language Training and Content Specialist. She has served as a freelance court interpreter, and as a freelance contributing writer, copyeditor, and editor for McGraw-Hill Higher Education.
Dr. Sellers is an Associate Professor in and Chair of the Department of World and Classical Languages, Coordinator of the first-year Spanish sequence and Spanish senior comprehensive exams. She is also the advisor for Alpha Mu Gamma.
DEGREES
Ph.D. in Education
University of Wyoming
M.A. in International Studies
University of Wyoming
M.A. in Spanish Literature
Kansas State University
B.A. in French, Spanish 
Kansas State University
Federally Certified Court Interpreter
English<>Spanish