Josh Pound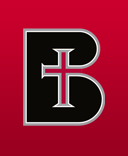 Position Title: Assistant Athletic Director/SID, Adjunct Instructor
Department: Athletics, Journalism & Mass Communications
Office: St. John Paul II Student Center 106C
Phone: 913.360.7634
Contact Josh Pound
---
Josh Pound joined the Benedictine College Athletic Department staff in the summer of 2003 as the school's first full-time Sports Information Director. He, serves as the primary media contact for information on the 17-sport Ravens and Lady Ravens athletics teams. He began serving as an Adjunct Instructor in the Mass Communications Department in the Spring of 2010.
He currently teaches Strategic Sports Communication for the Mass Comm department but has also taught Sports Broadcasting and Basic Layout & Design.
In May of 2017, Pound was promoted to Assistant Athletic Director in addition to his role as SID. Pound is a member of the NAIA Sports Information Directors Association (NAIA-SIDA) Branding Committee. As a member of the committee, Pound will be responsible for conducting interviews with NAIA-SIDA members in an effort to help showcase the people behind the scenes for athletic departments across the NAIA. He will also help select the top plays from across the Association that will be showcased on NAIA social media each week throughout the year.
Before joining the staff, Pound was the sports editor for the Atchison Daily Globe - now Atchison Globe - for three years. While at the Globe, Pound earned several awards for sports feature writing, sports writing, photography and layout, and design.
A native of Lyons, Kan., Pound spent four years at Pittsburg State University and Emporia State University before leaving school for an opportunity to work as a full-time sports editor at the Globe. While in school, he served as a sportswriter for the Pitt State student newspaper, the Emporia State student newspaper, and the Emporia Gazette. He also worked closely with each school's sports information departments.
He has a BS in Journalism from Benedictine College and is an active member of the College Sports Information Directors of America and the NAIA-SIDA. He completed his Master's in Athletic Administration with an emphasis in Intercollegiate Athletics in May of 2018.
Josh, his wife Amy – who teaches early childhood special education for the Keystone Learning Center – have three children Brady, Cooper, and Caitlyn. They reside in Nortonville, Kan. Amy and the children can often be found close by at many of the athletic events on the Benedictine campus as avid fans of the Ravens and Lady Ravens
DEGREES
B.S. in Journalism
Benedictine College
CLASSES
Basic Layout & Design
Sports Broadcasting