Faculty - Sociology & Criminology
The Department of Sociology and Criminology is chaired by Dr. Kevin Bryant who teaches both sociology and criminology and whose research has paved the way for internship opportunities for students. Other faculty include Karen Wood and Dr. Gary Burkart, Professor Emeritus and previous chair of the department.
Professor and Department Chair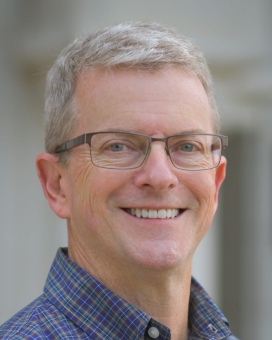 Dr. Kevin Bryant is Professor and Chair of Sociology and Criminology at a liberal arts college in Northeastern Kansas. He received his Ph.D. in sociology with an emphasis in criminology from the University of Tennessee in 1997. In 2015, he completed a study funded by the Department of Justice, Bureau of Justice Assistance's Smart Policing Initiative, examining the Shawnee (KS) Police Department's implementation of Data-Driven Approaches to Crime and Traffic Safety (DDACTS). Recently, he and the 29th Judicial Circuit Court (Jasper County, Missouri) received funding through the Bureau of Justice Assistance's Justice and Mental Health Collaboration Program to evaluate the effectiveness of their drug and co-occurring disorders courts during the two year project. Dr. Bryant is certified in Advanced Crime Mapping by the National Institute of Justice. He is a member of the American Society of Criminology, the Academy of Criminal Justice Sciences, and is Past President of the Midwestern Criminal Justice Association.
Assistant Professor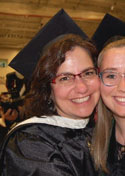 Known to her students as "K Wood," Karen is devoted to helping her students develop the Sociological Imagination in all that they do. Karen's previous work as both a Missionary and as a Pastoral Associate as well as her vocation as a wife and mother lend a great deal of experience to Karen's professional life as a sociologist.
Her research interests include: the Sociology of Religion, particularly the Catholic call of the New Evangelization as it relates to culture; Popular Culture, particularly its historical progression and influence upon Youth Culture; Marriage and Family, both macro and micro understandings; and the Sociology of Race Relations and the Construction of Ethnic Identities, particularly the unique Black American experience and its diverse and divergent expressions.
Karen loves "talking sociology" and witnessing students reach their potential both in and out of the classroom.
Education
Professional Memberships & Contributions
The Society of Catholic Social Scientists
The Midwest Sociological Society
Multiple Contributor to The Symposium on the New Evangelization (Benedictine College)
Fides et Ratio Alumna
Assistant Professor
In addition to a Ph.D. in sociology from the University of Tennessee, Nicholas received a M.S. in sociology from Virginia Commonwealth University and holds certificates in interdisciplinary social theory and applied social research. He also studied with the Deutscher Akademischer Austausch Dienst (DAAD) in Marburg, Germany and the West African Research Center (WARC) in Dakar, Senegal. Nicholas has served either as editorial assistant or on the editorial board for Current Perspectives in Social Theory since Vol 31, a conference organizer for 13th annual meeting of the International Sociological Theory Consortium (ISTC), and as a reviewer for the Annual Speechless Film Festival in the feature film category since 2015. He has presented papers at the Subjectivity and the System Conference at Brown University as well as at Eastern Sociological Association, Midwest Sociological Society, Southern Sociological Society, International Sociological Theory Consortium, Michigan Sociological Association, and the Sociologists of Minnesota conferences. Before coming to Benedictine College, Nicholas Hauman served as Assistant Professor of Sociology and the co-director of the Center for Intercultural Development and Resources (CIDR) at Bethany Lutheran College in Mankato, MN.
Adjunct Instructor
Dr. Currie Myers has a combined 35 years of professional experience as a state trooper, special agent, sheriff, criminologist, consultant, professor, university executive, and business executive. Dr. Myers ended his law enforcement career as the sheriff of Johnson County, Kansas which serves a population of more than 650,000 citizens in the Kansas City Metropolitan area and is one of the largest sheriffs' offices in the Midwest with nearly 750 employees and a jail population of approximately 1,000 inmates. He is a nationally recognized expert in criminal justice public policy as well as organizational management and leadership and has spoken at more than 1,000 local, state, and national conferences. He is an expert witness in both state and Federal court and has testified on numerous occasions. Prior to being sheriff, Dr. Myers was a special agent with the Kansas Bureau of Investigation (KBI), a state trooper with the Kansas Highway Patrol (KHP) and a Department of Defense consultant for the Wexford Group International.
Academically, Dr. Myers has developed and taught more than 25 courses at both the undergraduate and graduate level including disciplines within criminal justice, criminology, organizational management, leadership, ethics, business, and in the humanities. As a former senior university executive (school dean and associate vice president), he has rolled out new degree programs, new product lines and program concepts, conducted program reviews, and has development outcomes-based, applied learning curriculum in various forms of modality.
Dr. Myers is a Crime Prevention Through Environmental Design (CPTED) Practitioner and has been a lead consultant in hundreds of security and public safety related projects, to include design, implementation, logistics, administration and operations. In 2016 Dr. Myers was named a Vice President with The Kincaid Group, a transportation and technology services consortium. In January of 2020, he moved into a consulting role with the Group and now operates his own consulting firm, called Sheriff Myers & Associates (SMA).