Theatre Arts
Bachelor of Arts, Department of Theatre and Dance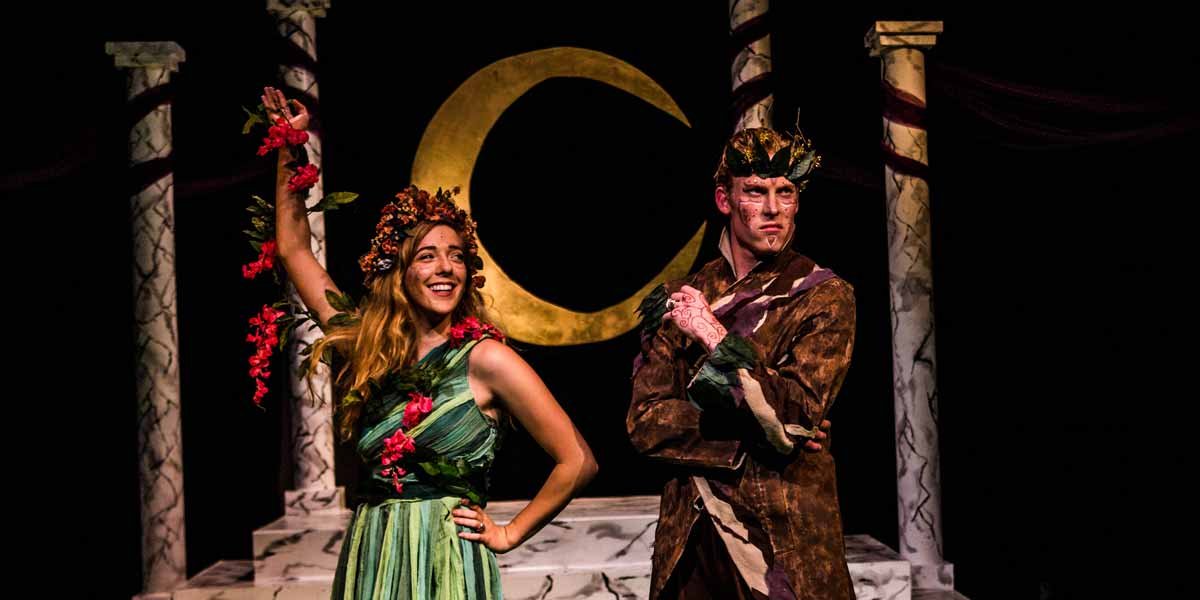 Department Overview
The Department of Theatre & Dance is dedicated to creating "total theatre-makers". We believe that the performing arts provide the indispensable social functions of Entertainment, Enlightenment, and Education. For the theatre artist, performing arts teaches practical skills including collaboration, creative problem solving, communicative clarity, organizational prowess, ethics, and time management skills, just to name a few. We are artists, but we are also engaged in the practical application of an entertainment business. To that end, students will learn, both in the classroom and in the theatre "laboratory", every aspect of theatre production. We believe that the performing arts can provide life-affirming experiences for both the practitioner and the consumer, and reveal truths about the human experience in a dynamic way.
Degree Objectives
Foster academic excellence through development of programs that meet

 

national standards
Enhance the cultural and aesthetic experience of our campus, community and region through quality productions, leadership, and service learning.
Embrace a standard of artistic excellence, which is enhanced by aggressive pursuit of summer internships and other professional development opportunities.
Prepare students for successful transfer to graduate or conservatory programs or to pursue professional careers in the theatre and dance performance, theatre and dance education, or allied fields.
Elizabeth Bettendorf Bowman
Adjunct Instructor
Anita Buhman-Wiggs
Costume Studio Manager and Instructor
Megan Chiles
Adjunct Instructor
Scott L. Cox, Ph.D.
Assistant Professor & Department Chair
Derek Trautwein
Instructor, Technical Director
Freshmen Year
| | | |
| --- | --- | --- |
| THTR-1110 | Production Arts | 1 |
| THTR-1800 | Script Analysis | 3 |
| THTR-1550 | Stagecraft | 3 |
| ENGL-1010 | English Composition | 3 |
| GNST-1000 | BC Experience | 1 |
| THEO-1100 | Intro to Theology | 3 |
| – | Foreign Language | 4 |
| | Total | 18 |
| | | |
| --- | --- | --- |
| THTR-1120 | Production Arts | 1 |
| THTR-1150 | Fundamentals of Acting | 3 |
| THTR-2210 | Stage Makeup | 3 |
| PHIL-1750 | Principles of Nature | 3 |
| – | Person and Community Foundation | 3 |
| EXSC-1115 | Wellness for Life | 1 |
| – | Foreign Language | 4 |
| | Total | 18 |
Sophomore Year
| | | |
| --- | --- | --- |
| THTR-2110 | Production Arts | 1 |
| THTR-2250 | Movement for the Performing Artist | 3 |
| – | Theatre History & Literature (1) | 3 |
| – | Philosophical Inquiry | 3 |
| – | Mathematical Reasoning Foundation | 3 |
| – | Aesthetic Experience | 3 |
| | Total | 16 |
| | | |
| --- | --- | --- |
| THTR-2120 | Production Arts | 1 |
| THTR-2150 | Techniques of Acting Theatre | 3 |
| – | Theatre History & Literature (2) | 3 |
| – | Understanding the Natural World | 4 |
| – | Faith Foundation | 3 |
| EXSC | Fitness course | 1 |
| | Total | 15 |

Junior Year
| | | |
| --- | --- | --- |
| THTR-3110 | Production Arts | 1 |
| THTR-3150 | Advanced Acting Styles | 3 |
| – | Theatre History & Literature (3) | 3 |
| – | Theatre Design Course | 3 |
| – | Theatre Elective (Stage Combat) | 3 |
| – | Faith Foundation | 3 |
| | Total | 16 |
| | | |
| --- | --- | --- |
| THTR-3120 | Production Arts | 1 |
| – | Theatre Design Course | 3 |
| THTR-2240 | Voice & Diction | 3 |
| – | Theatre Elective (Playwriting) | 3 |
| – | Global Perspective | 3 |
| – | Philosophical Inquiry | 3 |
| | Total | 16 |
Senior Year
| | | |
| --- | --- | --- |
| THTR-4150 | Play Direction | 3 |
| – | Theatre Elective (Special Topic) | 3 |
| – | Understanding the Natural World | 3–4 |
| – | Electives/Minor | 6 |
| | Total | 15–16 |
| | | |
| --- | --- | --- |
| THTR-COMP | Comprehensive Exam, or | cr |
| THTR-4950 | Senior Creative Project | 3 |
| – | Electives/Minor | 12 |
| | Total | 15 |
Other Department Offerings
Bachelor of Arts in Theatre Arts Management
Minor in Theatre Arts