Special Education
Bachelor of Arts, Department of Education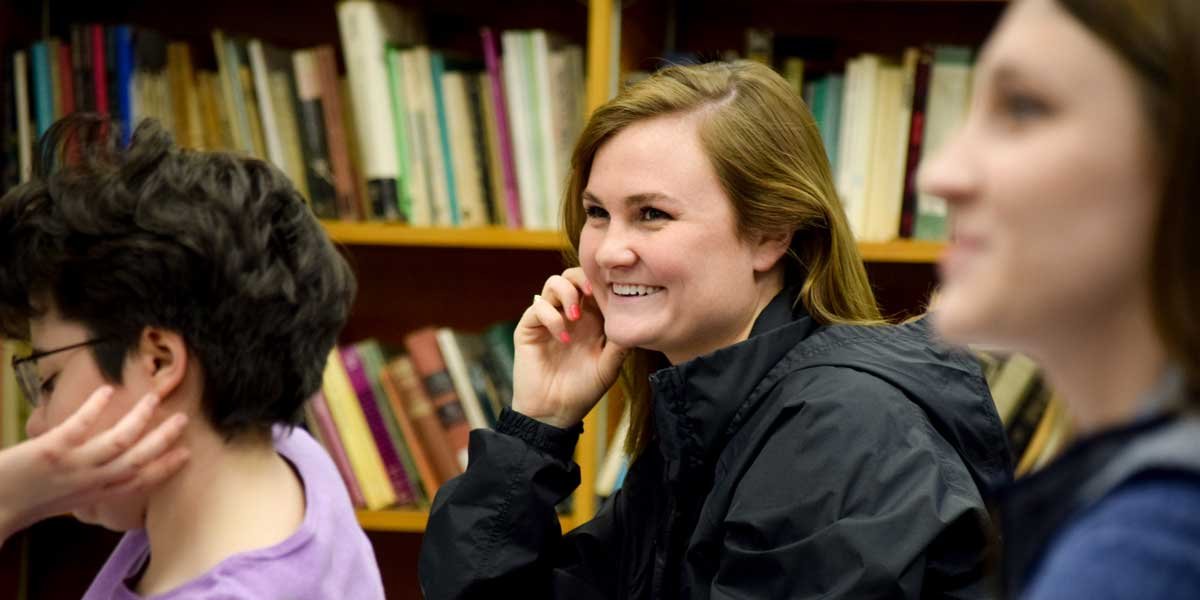 Department Overview
The Education Department programs are built upon the framework of "Educators as Builders of Community." The programs call for future teachers and administrators to perceive their roles in education as developers of community. The learning community is within classrooms and schools, as well as outside their walls. Not only do education graduates work toward building community with students, families, and members of the local community, but they see a purpose of education to be the development of individuals who assume responsibility for building a healthy community locally, nationally, and globally. Grounded in a Benedictine, liberal arts tradition, the program advocates that the goals and means of the educative process are complementary and seek the pursuit of human dignity and social responsibility.
Degree Objectives
To build learning communities where students and teachers make meaningful choices, communicate and collaborate with others, think critically and conceptually, and act justly;
To model decision making processes that are inquiry-based, equitable, and reflect the values of Benedictine communities.
To actively involve the community as a partner in the educational process.
Christi Adams, Ed.D.
Associate Professor, co-Chair
Dianna Henderson, Ed.D.
Professor
Maureen Huppe, Ph.D.
Assistant Professor
Matthew J. Ramsey, Ph.D.
Associate Professor and co-Chair
Piper Wentz, M.A.
Assistant Professor and Director of Elementary Education
Freshmen Year
| | | |
| --- | --- | --- |
| ENGL-1010 | English Composition | 3 |
| THEO-1100 | Introduction to Theology | 3 |
| – | Foreign Language | 4 |
| PSYC-1000 | General Psychology (Person and Community) | 3 |
| EDUC-2200 | Introduction to Education | 2 |
| EDUC-2201 | Introduction to Ed Field Experience | 1 |
| GNST-1000 | BC Experience | 1 |
| EXSC | Fitness course (Health) | 1 |
| | Total | 18 |
| | | |
| --- | --- | --- |
| ENGL-1020 | Intro. to Literature (Aesthetic Foundation) | 3 |
| PHIL-1750 | Principles of Nature | 3 |
| – | Foreign Language | 4 |
| – | Faith Foundation | 3 |
| – | Life Science (Natural World) | 4 |
| | Total | 17  |

Sophomore Year
| | | |
| --- | --- | --- |
| EDUC-2220 | Psychoeducational Development | 3 |
| EDUC-2222 | Psychology of Individuals With Exceptionalities | 3 |
| HIST-1100 | World Civilization to 1500 (Historical Foundation) | 3 |
| – | Philosophical Inquiry Foundation | 3 |
| EDUC-2214 | Integrated Art & Music Methods | 3 |
| EDUC-2226 | Characteristics of Indv. With Exceptionalities | 3 |
| | Total | 18 |
| | | |
| --- | --- | --- |
| – | Faith Foundation | 3 |
| – | Fine Arts (Aesthetic Foundation) | 3 |
| – | Physical Science (Natural World) | 4 |
| HIST-1300 | U.S. History to 1865 (Historical Foundation) | 3 |
| SOCI-1000 or SOCI-3250 | General Sociology or Sociology of Race & Ethnic Relations | 3 |
| | Total | 16 |

Junior Year
| | | |
| --- | --- | --- |
| EDUC-3320 | Curriculum for Ind. With Exceptionalities | 3 |
| EDUC-3301 | Social Studies Methods | 2 |
| EDUC-3303 | Science & Health Methods/Media | 2 |
| EDUC-3307 | Building Community Through Integrated Social Studies & Sciences | 1 |
| EDUC-3312 | School as Community | 3 |
| EDUC-3313 | School as Community Diversity Field Experience | 1 |
| MATH-1110 | Math for Elem. Teachers I (Mathematical Reasoning) | 4 |
| EXSC-3302 | Elementary Physical Education Curriculum | 2 |
| | Total | 18 |
| | | |
| --- | --- | --- |
| MATH-1120 | Math for Elem. Teachers II (Mathematical Reasoning) | 3 |
| EDUC-3319 | Integrated Language Arts Methods | 5 |
| EDUC-3317 | Integrated Language Arts Practicum | 1 |
| EDUC-4451 | Philosophy of Education | 3 |
| EDUC-3314 | Math Methods & Assessment | 3 |
| EXSC-1115 | Wellness for Life | 1 |
| | Total | 16 |

Senior Year
| | | |
| --- | --- | --- |
| EDUC-4455 | Differentiated Instruction | 3 |
| EDUC-4462 | Classroom Management | 2 |
| EDUC-4470 | Seminar for Student Teaching | 1 |
| EDUC-4492 | Supervised Student Teaching | 10 |
| EDUC-CNTX | Core Cont Area Exam, Elem | cr |
| EDUC-PLTX | PLT Licensure Exam | cr |
| | Total | 16 |
| | | |
| --- | --- | --- |
| EDUC-3322 | Building School, Family & Community Partnerships for Indv. With Excep. | 2 |
| EDUC-3324 | Methods/Materials for Indv. With Excep. | 3 |
| EDUC-3326 | Assessment of Indv. With Excep. | 3 |
| EDUC-4491 | Supervised Student Teaching of Indv. With Excep. | 10 |
| EDUC-4471 | Special Ed. Student Teach Seminar | 1 |
| EDUC-SPEDX | Core Knowledge & Adaptive Content Exam | cr |
| EDUC-COMP | Senior Comprehensive | cr |
| | Total | 19 |
Other Department Offerings
Bachelor of Arts Degree in Elementary Education
Bachelor of Arts Degree in Secondary Education
Minor in Education