Sociology
Bachelor of Arts, Department of Sociology and Criminology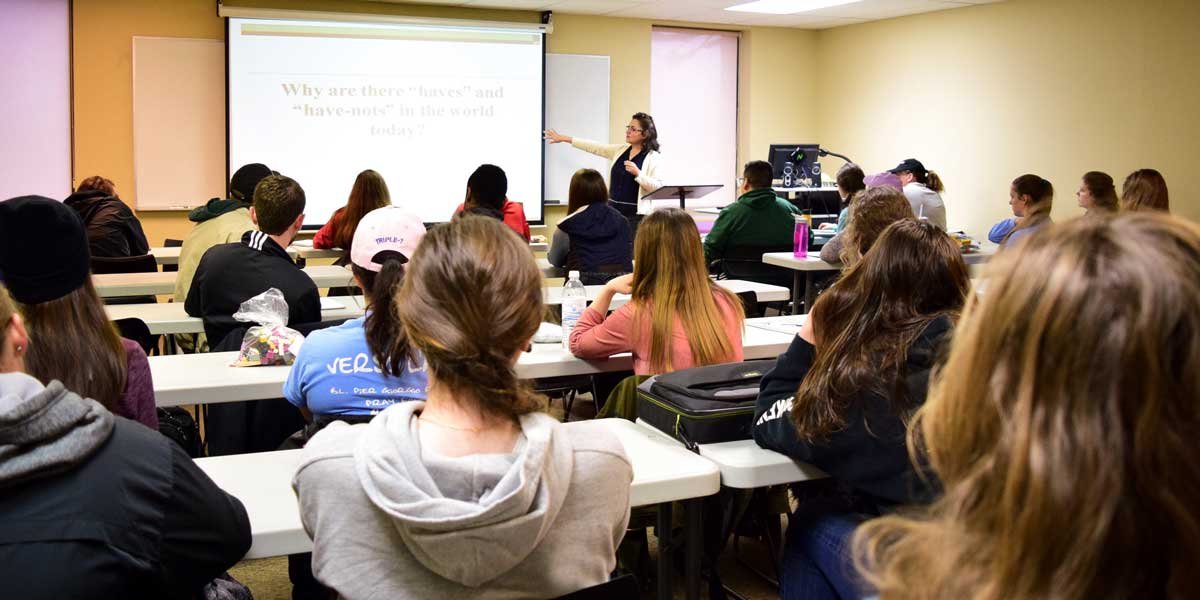 Department Overview
Criminology is an interdisciplinary social science that studies the causes of crime and delinquency, analyzes crime patterns, and critically examines the origins and functions of criminal law and the criminal justice system.
The criminology program at Benedictine College, contained in the Department of Sociology, provides students with a rigorous introduction to the methods and material of contemporary criminological inquiry, including classical and contemporary theories of crime and criminality, methods of theory testing and data analysis, and public policy issues related to crime prevention, control and punishment.
Degree Objectives
Help students acquire an in-depth comprehension of the social order through study of major concepts and theories found within the discipline
Develop knowledge of scientific sociology through practical experience in theory construction, methodology and field study
Prepare students for graduate and professional schools with a view toward research, teaching, and public service
Prepare students for careers in applied social science, social administration, and public social services
Career Opportunities
Administrator
Social systems analyst
Business and industry
Community planning
Counseling
Environmental research & planning
Governmental
Market and public opinion research
Minority and race relations staff
Urban affairs
Regional planning & development
Research advertising
Census
Teaching
Kevin M. Bryant, Ph.D.
Professor & Chair
Gary Burkart, Ph.D.
Professor Emeritus
Dr. Nicholas Hauman
Assistant Professor
Karen Wood
Assistant Professor
This eight-semester plan includes only the broad outlines within which programming can be arranged and adapted to the student's individualized needs and plans. It is expected that a major program will be planned by the student with his or her advisor and/or the department chair and that of the electives; several will be in the field of sociology.
Freshmen Year
| | | |
| --- | --- | --- |
| ENGL-1010 | English Composition | 3 |
| – | Foreign Language | 4 |
| THEO-1100 | Introduction to Theology | 3 |
| GNST-1000 | BC Experience | 1 |
| SOCI-1000 | Introduction to Sociology | 3 |
| – | Historical Inquiry Foundation | 3 |
| | Total | 17 |
| | | |
| --- | --- | --- |
| PHIL-1750 | Principles of Nature | 3 |
| – | Foreign Language | 4 |
| – | Aesthetic Foundation | 3 |
| – | Understanding Natural World Foundation | 4 |
| MATH-1220 | Introductory Statistics | 4 |
| | Total | 18 |
Sophomore Year
| | | |
| --- | --- | --- |
| – | Sociology Electives | 6 |
| – | Aesthetic Foundation | 3 |
| – | Faith Foundation | 3 |
| – | Skills and Perspectives or Electives | 3 |
| EXSC -1150 | Wellness for Life | 1 |
| | Total | 16 |
| | | |
| --- | --- | --- |
| – | Sociology Electives | 3 |
| SOCI-2300 | World Regional Geography | 3 |
| – | Skills and Perspectives or Electives | 6–9 |
| EXSC | Fitness Course | 1 |
| | Total | 13–16 |
Junior Year
| | | |
| --- | --- | --- |
| – | Sociology Electives | 6 |
| – | Philosophical Inquiry Foundation | 3 |
| SOCI-3155 | Research Design | 3 |
| – | Skills and Perspectives or Electives | 3 |
| SOCI-3250 or SOCI-3270 | Race and Ethnicity or Social Stratification | 3 |
| | Total | 18 |
| | | |
| --- | --- | --- |
| SOCI-3105 | Sociological Theory | 3 |
| – | Faith Foundation | 3 |
| – | Philosophical Inquiry Foundation | 3 |
| – | Sociology Electives | 6 |
| | Total | 15 |

Senior Year
| | | |
| --- | --- | --- |
| SOCI-COMP | Senior Comp. Exam | cr |
| – | Sociology Elective | 6 |
| – | Skills and Perspectives or Electives | 9–12 |
| | Total | 15–18 |
| | | |
| --- | --- | --- |
| – | Sociology Elective | 3 |
| – | Skills and Perspectives or Electives | 9 |
| – | Internship in Sociology | 3 |
| – | Second Course in Research Methods | 3 |
| | Total | 18 |
Other Department Offerings
Bachelor of Arts Degree in Criminology
Minors in Sociology & Criminology