Music
Bachelor of Arts, Department of Music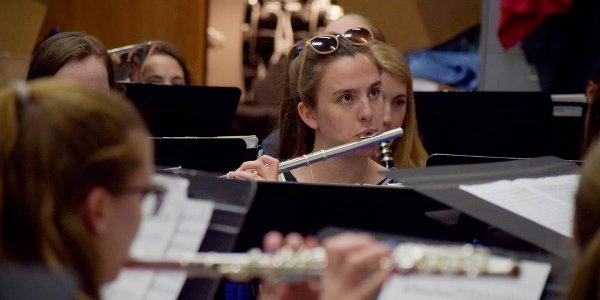 Department Overview
The Benedictine College Music Department strives to present opportunities for students that meet the artistic, creative, and scholarly demands of those who intend to pursue teaching, performance or other careers in music. The Department enhances the cultural activities of the college and serves the student body with offerings in applied music and with vocal and instrumental ensembles.
Degree Objectives
Provide students with educational opportunities, performance experiences, and expectation of standards on a national level to prepare them for entrance into study on the graduate level and/or preparation for a professional career in music.
Provide professional training for those students desiring to teach PreK–12 general music through the Bachelor of Music Education degree program.
Provide students with the opportunity to perform in ensembles, participate in music courses and applied music, and attend musical events for their cultural development.
Career Opportunities
Composer
Singer/Songwriter
Music Therapist
Church Music Director
Christopher Greco, D.M.A.
Professor
Ted Hanman
Assistant Professor
Ruth Krusemark, D.M.A.
Professor Emerita
John F. Paul, D.M.A.
Professor and Chair
Timothy Tharaldson
Assistant Professor
Freshmen Year
| | | |
| --- | --- | --- |
| MUSC-1000 | Fundamentals of Music & Aural Skills | 2 |
| MUSC-1003 | Functional Keyboard I | 1 |
| THEO-1100 | Introduction to Theology | 3 |
| ENGL-1010 | English Composition | 3 |
| – | Foreign Language | 4 |
| EXSC-1115 | Wellness for Life | 1 |
| – | Applied Music | 1 |
| – | Major Ensemble | 1 |
| GNST-1000 | BC Experience | 1 |
| MUSC-ATT1 | Concert Attendance | P/NP |
| – | Music elective | 1 |
| | Total | 18 |
| | | |
| --- | --- | --- |
| MUSC-1001 | Music Theory/Aural Skills I | 3 |
| MUSC-1004 | Functional Keyboard II | 1 |
| – | Foreign Language | 4 |
| MUSC-1101 | World Music Literature | 3 |
| – | Applied Music | 1 |
| – | Major Ensemble | 1 |
| MUSC-ATT2 | Concert Attendance | P/NP |
| – | Music elective | 4 |
| | Total | 17 |
Sophomore Year
| | | |
| --- | --- | --- |
| MUSC-1002 | Music Theory/Aural Skills II | 3 |
| – | Approved Fitness Activity course | 1 |
| – | Applied Music | 1 |
| – | Major Ensemble | 1 |
| MUSC-ATT3 | Concert Attendance | P/NP |
| PHIL-1750 | Principles of Nature | 3 |
| – | Electives | 6 |
| | Total | 15 |
| | | |
| --- | --- | --- |
| MUSC-2000 | Music Theory/Aural Skills III | 3 |
| – | Oral Communication | 3 |
| – | Understanding the Natural World | 4 |
| – | Aesthetic Experience | 3 |
| – | Applied Music | 1 |
| – | Major Ensemble | 1 |
| MUSC-ATT4 | Concert Attendance | P/NP |
| | Total | 15 |
Junior Year
| | | |
| --- | --- | --- |
| MUSC-3000 | Music Theory/Aural Skills IV | 3 |
| – | Philosophical Inquiry | 3 |
| – | Upper-division Music Electives | 3 |
| – | Faith Foundation | 4 |
| – | Applied Music | 1 |
| – | Major Ensemble | 1 |
| MUSC-ATT5 | Concert Attendance | P/NP |
| – | Upper-division Music Elective | 3 |
| | Total | 17 |
| | | |
| --- | --- | --- |
| MUSC-4100 | History of Music I | 3 |
| – | Mathematical Reasoning | 3 |
| – | Applied Music | 1 |
| MUSC-PIAPR | Piano Proficiency | P/NP |
| – | Major Ensemble | 1 |
| MUSC-ATT6 | Ensemble Concert Attendance | P/NP |
| – | Music Electives | 1 |
| – | Western Perspective | 3 |
| – | Electives | 3 |
| | Total | 15 |
Senior Year
| | | |
| --- | --- | --- |
| MUSC-3201 | Introduction to Conducting | 1 |
| MUSC-4101 | History of Music II | 3 |
| – | Upper-division Electives | 5 |
| – | Major Ensemble | 1 |
| – | Faith Foundation | 3 |
| – | Applied Music | 1 |
| – | Written Communication | 3 |
| | Total | 17 |
| | | |
| --- | --- | --- |
| | Person & Community | 3 |
| – | Philosophical Inquiry | 3 |
| | Understanding the Natural World | 3 |
| – | Applied Music | 1 |
| | Major Ensemble | 1 |
| MUSC-4997 | Senior Recital | 1 |
| MUSC-COMP | Senior Comprehensive | cr |
| – | Upper-division Music Electives | 3 |
| | Total | 15 |
Other Department Offerings
Bachelor of Arts in Music Education
Minor in Music