Journalism and Mass Communication
Bachelor of Arts, Department of Journalism & Mass Communications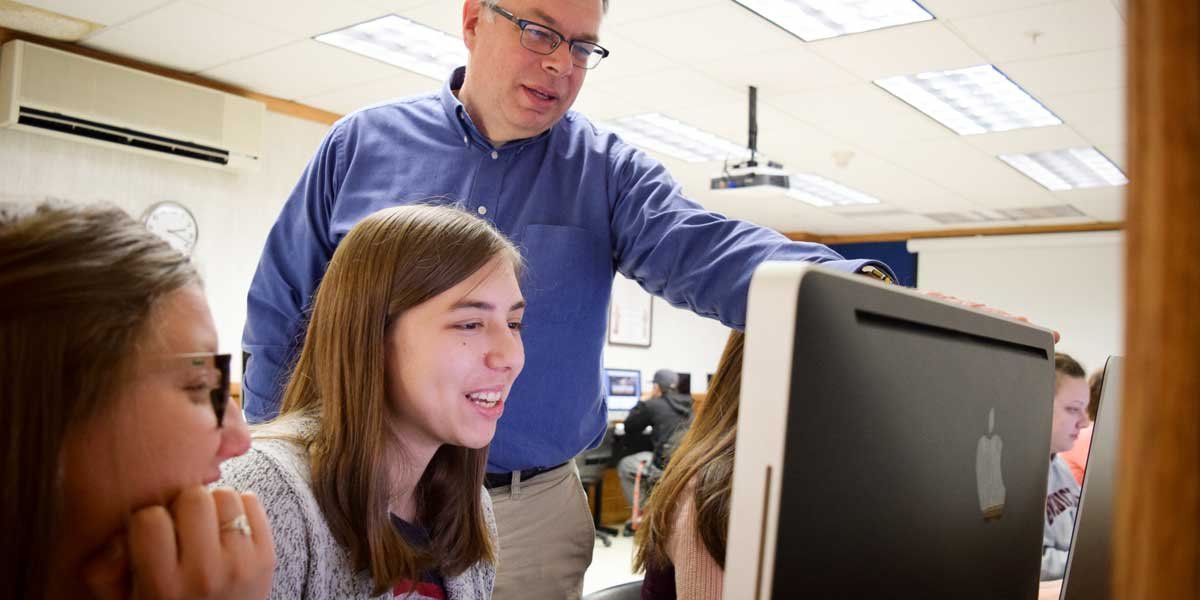 Department Overview
The major in Journalism and Mass Communications is designed to prepare students for entry-level positions in reporting, digital media production, public relations, photography, web design, and advertising. The major is also an excellent preparation for graduate study in communications or journalism.
Students become active decision-makers in producing the student-run publications The Circuit and bccircuit.com (student news), and The Raven (the college yearbook), as part of their practicum experiences. Internships are not required, but are strongly encouraged.
Degree Objectives
The goals of the department are to prepare students for positions in writing, newspaper, magazine, public relations, video production, photography, web design, sales, publicity, media production and advertising.
The major is an excellent preparation for employment in media, or for graduate study in communications or journalism.
Career Opportunities
Careers in the field include news writer, photographer, web designer, video producer, reporter, public relations specialist and many other creative jobs in the media and professional/service communities or business.
Dennis Dunleavy, Ph.D.
Associate Professor
Thomas Hoopes
Adjunct Professor
Kevin Page, Ph.D.
Professor and Department Chair
Josh Pound
Adjunct Instructor
Julie Love Smith
Assistant Professor
Michael Throop, Ph.D.
Assistant Professor
Freshmen Year
| | | |
| --- | --- | --- |
| ENGL-1010 | English Composition | 3 |
| THEO-1100 | Introduction to Theology | 3 |
| – | Foreign Language | 4 |
| GNST-1000 | BC Experience | 1 |
| MCOM-1000 | Media and Society | 3 |
| MCOM-1550 | Digital Media Foundations | 3 |
| | Total | 17 |
| | | |
| --- | --- | --- |
| SOCI-1000 | Introduction to Sociology | 3 |
| – | Foreign Language | 4 |
| PHIL-1750 | Principles of Nature | 3 |
| MCOM-1610 | Layout and Design | 3 |
| MCOM-2000 | Strategic Communications | 3 |
| | Total | 16 |
Sophomore Year
| | | |
| --- | --- | --- |
| MCOM/JOUR | Elective | 3 |
| – | General Education Elective | 6 |
| MCOM-2610 | Digital Photography I  | 4 |
| JOUR-2620 | News Writing I | 4 |
| | Total | 17 |
| | | |
| --- | --- | --- |
| – | General Education Elective | 6 |
| – | Philosophical Inquiry Foundation | 3 |
| – | Elective | 3 |
| JOUR-3300 | News Writing II | 3 |
| EXSC | Fitness Course | 1 |
| | Total | 16 |
Junior Year
| | | |
| --- | --- | --- |
| – | General Education Elective | 3 |
| MCOM/JOUR | Electives | 6 |
| – | Natural World Foundation | 4 |
| – | Practicum | 1–2 |
| JOUR-3350 | Copy Editing | 1 |
| | Total | 15-16 |
| | | |
| --- | --- | --- |
| – | Philosophical Inquiry Foundation | 3 |
| MCOM/JOUR | Electives | 6 |
| – | Faith Foundation | 3 |
| – | General Education Elective | 3 |
| EXSC-1115 | Wellness for Life | 1 |
| | Total | 16 |
Senior Year
| | | |
| --- | --- | --- |
| MCOM-JOUR | Elective | 3 |
| – | Faith Foundation | 3 |
| – | General Electives | 6 |
| – | Practicum | 1–2 |
| – | Elective | 3 |
| | Total | 16–17 |
| | | |
| --- | --- | --- |
| MCOM-JOUR | Electives | 6–9 |
| – | General Electives | 9 |
| MCOM-4090 | Senior Seminar | 1 |
| MCOM-COMP | Senior Comprehensive Exam | cr |
| | Total | 16–19 |