Graphic Design
Bachelor of Arts, Department of Art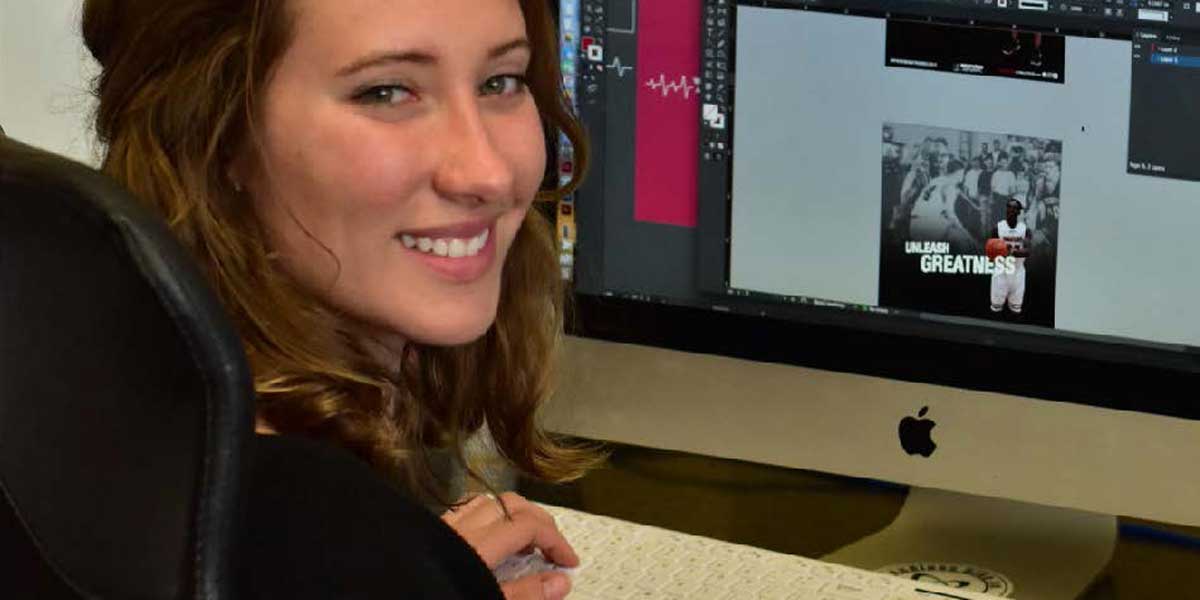 Degree Overview
Graphic designers plan and execute designs for visual communication according to the needs of audiences and clients. The graphic design major includes courses, beginning in the freshman year, that apply knowledge of art, design, typography, illustration, and digital technologies with the intent to interpret, inform, instruct, or persuade in consideration of physical, human, social, and cognitive factors
Degree Objectives
Students will be prepared to adapt to the continuing changes in the professional landscape while relying on the basic principles of good design and communication.
Students will engage in critical thinking to communicate visually, to utilize rigorous research methods, and to develop a personal process.
The program will provide exposure to the discipline through technical development, investigation of theory and history, conceptual thinking, research, play, and collaboration, preparing graduates to go into entry-level graphic design jobs and freelance work; or potentially, to develop a career path that moves into marketing, digital media, or continue on to graduate level studies.
Related Career
Art Director
Graphic Designer
Multimedia Designer
Photographer
Photo Editor
User Experience (UX) Designer
User Interface (UI) Designer
John Haigh, M.Arch AIA
Assistant Professor of Architecture
Susan Leo, MFA
Assistant Professor of Art
Christopher Miller, Ph.D.
Professor and Program Director of Architecture
Bryan Park, MFA
Associate Professor and Chair of Art
Gary Rittermeyer, MFA
Adjunct Instructor of Art
Laura Tyler
Adjunct Instructor of Art
Jay Wallace, MFA
Assistant Professor of Art
Freshman Year
| | | |
| --- | --- | --- |
| ART-1000 | Drawing I | 3 |
| ART-1010 | Foundations of 2-D Design | 3 |
| MCOM-1500 | Digital Media Foundations | 3 |
| THEO-1110 | Introduction to Theology | 3 |
| ENGL-1010 | English Composition | 3 |
| GNST-1000 | Benedictine Experience | 1 |
| | Total | 16 |
| | | |
| --- | --- | --- |
| ART-1030 | Foundations of 3-D Design | 3 |
| ART-2800 | Basic Digital Photography | 3 |
| MCOM-1610 | Layout and Design | 3 |
| PHIL-1750 | Principles of Nature | 3 |
| — | Mathematical Reasoning Foundation | 3-4 |
| | Total | 15-16 |
Sophomore Year
| | | |
| --- | --- | --- |
| ART-2300 | Graphic Design I | 3 |
| ART-2500 | Printmaking I | 3 |
| — | Foreign Language | 4 |
| — | Faith or Philosophical Inquiry Foundation | 3 |
| — | Elective | 3 |
| | Total | 16 |
| | | |
| --- | --- | --- |
| ART-3301 | Graphic Design II | 3 |
| ART-3412 | Art History II | 3 |
| — | Foreign Language | 4 |
| — | Natural World Foundation w/o Lab | 3 |
| — | Elective | 3 |
| | Total | 16 |
Junior Year
| | | |
| --- | --- | --- |
| ART-3414 | History of Photography | 3 |
| ART-3310 | Typography | 3 |
| — | Natural World Foundation w/ lab | 4 |
| — | Faith or Philosophical Inquiry Foundation | 3 |
| — | Elective | 3 |
| | Total | 16 |
| | | |
| --- | --- | --- |
| ART-3413 | 20th Century Art | 3 |
| MKTG-3100 | Principles of Marketing | 3 |
| — | Graphic Design Elective | 3 |
| — | Faith or Philosophical Inquiry Foundation | 3 |
| EXSC-1115 | Wellness for Life | 1 |
| - | Elective | 3 |
| | Total | 16 |
Summer Internship (0-4 Credits)
Senior Year
| | | |
| --- | --- | --- |
| ART-XXXX | Design Thinking and Practice | 3 |
| — | Graphic Design Elective | 3 |
| — | Faith or Philosophical Inquiry Foundation | 3 |
| EXSC | Fitness Course | 1 |
| — | Electives | 6 |
| | Total | 16 |
| | | |
| --- | --- | --- |
| ART-XXXX | Design for Social Good | 3 |
| ART-XXXX | Senior Campaign | 1 |
| JOUR-4750 | Mass Media Law and Ethics | 3 |
| — | Global Perspective | 3 |
| — | Electives | 6-7 |
| | Total | 16-17 |
Other Department Offerings
Bachelor of Arts with Art Therapy Specialization
Bachelor of Arts in Art Education
Bachelor of Arts in Architecture
Minor in Art