Economics
Bachelor of Arts, Department of Economics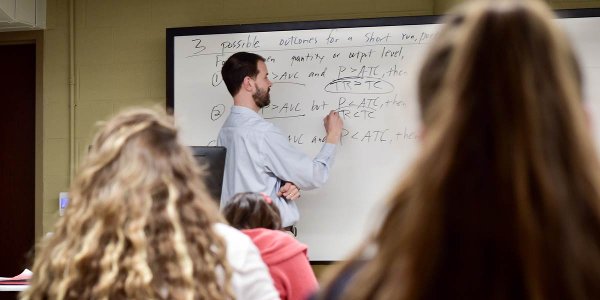 Department Overview
The major in economics provides a program of study for the liberal arts student that allows for an investigation of the essential area of economics and introduces the student specializing in economics to problem solving and analytical research. As an outgrowth of the dialogue between the faculty and students, both inside and outside the classroom, we encourage economic research.
Degree Objectives
To provide students with a fundamental understanding of our present-day economic.
Prepare students for immediate entry into professional careers in the business, banking and finance, and governmental communities.
Prepare students for graduate school, especially in economics, business and public administration, and law.
Prepare students for teaching in the social science areas of the secondary school system.
Career Opportunities*
Actuary
Compensation and benefits
Credit Analyst
Budget Analyst
Market Research Analyst
Accountant
Sales
Financial Analyst
Bookkeeper
Management Analyst
* Monster, What can you do with an economics degree?
Richard Coronado, Ph.D.
Professor
Dr. David Harris, Ph.D.
Professor and Chair
Dr. James Young, Ph.D.
Assistant Professor
Freshman Year
| | | |
| --- | --- | --- |
| GNST-1000 | BC Experience | 1 |
| ENGL-1010 | English Composition | 3 |
| – | Mathematics | 4 |
| – | Foreign Language | 4 |
| – | Historical Foundation | 3 |
| THEO-1100 | Introduction to Theology | 3 |
| | Total | 18 |
| | | |
| --- | --- | --- |
| PHIL-1750 | Principles of Nature | 3 |
| – | Historical Foundation | 3 |
| ENGL-1020 | Introduction to Literature | 3 |
| – | Foreign Language | 4 |
| – | Elective | 3 |
| EXSC-1115 | Wellness for Life | 1 |
| | Total | 17 |
Sophomore Year
| | | |
| --- | --- | --- |
| ECON-2100 | Principles of Microeconomics | 3 |
| – | Natural World Foundation (with lab) | 4 |
| – | Aesthetic Foundation | 3 |
| – | Suggested elective: Psych or Soc | 3 |
| ACCT-2090 | Principles of Financial Acctg. | 3 |
| | Total | 16 |
| | | |
| --- | --- | --- |
| ECON-2090 | Principles of Macroeconomics | 3 |
| – | Faith Foundation | 3 |
| – | Philosophical Inquiry Foundation | 3 |
| – | Aesthetic Foundation | 3 |
| – | Natural World Foundation | 4 |
| EXSC | Fitness course | 1 |
| | Total | 17 |
Junior Year
| | | |
| --- | --- | --- |
| ECON-3100 | Intermed Microecon Theory | 3 |
| ECON-3000 | Contemp Economic Thinking | 3 |
| | Philosophical Inquiry Foundation (PHIL-3250) | 3 |
| – | Elective: Secondary Orientation | 3 |
| MATH-1220 | Introductory Statistics | 4 |
| | Total | 16 |
| | | |
| --- | --- | --- |
| ECON-3090 | Macroeconomic Activity | 3 |
| – | Faith Foundation | 3 |
| – | Econ Elective (Catholic Social Teaching) | 3 |
| – | Elective: Secondary Orientation (Ethics) | 3 |
| – | Elective | 3–4 |
| | Total | 15–16 |
Senior Year
| | | |
| --- | --- | --- |
| – | Economics Elective (International Trade) | 3 |
| ECON-4130 | Introduction to Econometrics | 3 |
| – | Suggested elective: Financial Management | 3 |
| – | Elective: Secondary Orientation | 3 |
| – | Elective | 3 |
| | Total | 15 |
| | | |
| --- | --- | --- |
| – | Economics elective | 3 |
| ECON-4110 | History of Econ Thought | 3 |
| – | Suggested elective: Investments | 3 |
| – | Elective: Secondary Orientation | 3 |
| – | Elective | 3 |
| ECON-COMP | Senior Comprehensive | cr |
| | Total | 15 |
Other Department Offerings:
Minor in Economics
Minor in Economics and Politics