Computer Science
Bachelor of Arts, Bachelor of Science, Department of Mathematics & Computer Science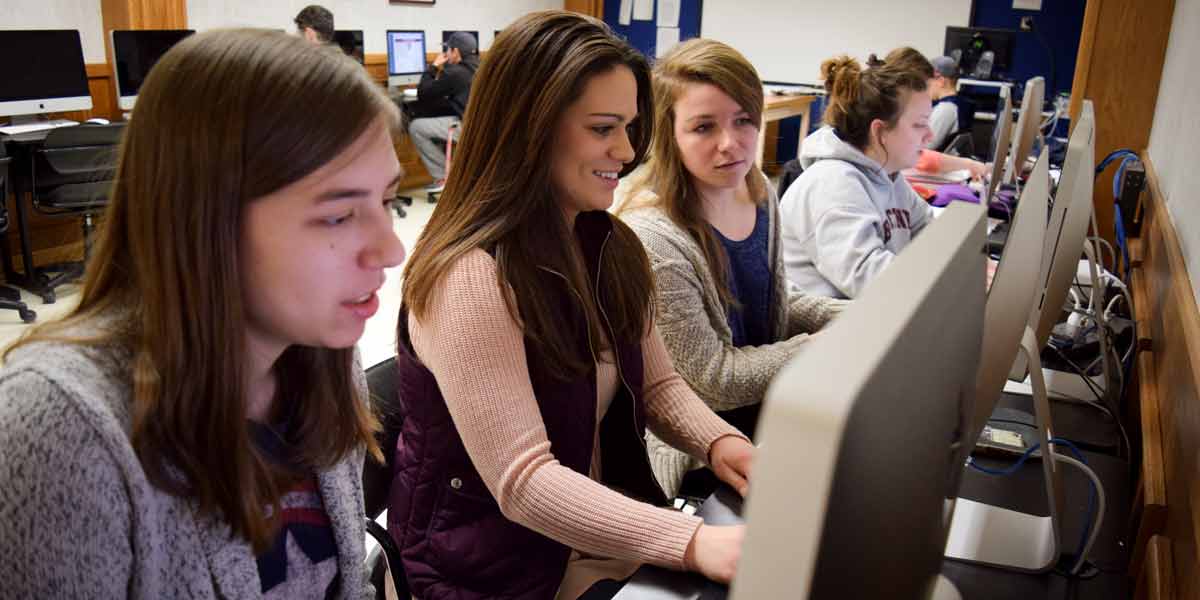 Department Overview
The Mathematics and Computer Science Department at Benedictine College is committed to maintaining a curriculum that provides students with the necessary tools to enter a career in their field with a broad, solid knowledge of mathematics or computer science. Our students are provided with the knowledge, analytical, and problem- solving skills necessary to function as mathematicians or computer scientists in our world today.
Degree Objectives
The major prepares students for graduate study in the field of computer science or for employment in an ever-expanding spectrum of occupations dependent upon computing.
Our graduates obtain jobs in computer programming or software engineering.
A Computer Science minor provides a useful addition to many areas of study, including mathematics, science, business, and mass communications.
Related Careers*
Teaching
Actuarial Science
Software Development
Operations Research
Cryptography
Finance
Data Science
Physical Sciences
* More on the department website.
Don Bagert, Ph.D.
Associate Professor
Angela Broaddus, Ph.D.
Associate Professor
Joshua Cole, Ph.D.
Assistant Professor
Nickolas Hein, Ph.D.
Associate Professor
Heidi Hulsizer, Ph.D.
Associate Professor
Nicolaas tenBroek
Associate Professor
Eric West, Ph.D.
Assistant Professor & Department Chair
Freshman Year
| | | |
| --- | --- | --- |
| CSCI-1010 | Comp Sci Fund (suggested) | 3 |
| – | Natural World Foundation (with lab) | 4 |
| – | Foreign Language | 4 |
| ENGL-1010 | English Composition | 3 |
| EXSC-1115 | Wellness for Life | 1 |
| EXSC | Fitness course | 1 |
| GNST-1000 | BC Experience | 1 |
| | Total | 17 |
| | | |
| --- | --- | --- |
| CSCI-1050 | Web Programming (option) | 3 |
| MATH-1220 | Introductory Statistics | 4 |
| THEO-1100 | Introduction to Theology | 3 |
| – | Foreign Language | 4 |
| PHIL-1750 | Principles of Nature | 3 |
| | Total | 17 |
Sophomore Year
| | | |
| --- | --- | --- |
| CSCI-1140 | Intro to Computer Science I | 4 |
| MATH-2550 | Discrete Math. Structures I | 3 |
| – | Historical Foundation | 3 |
| – | Philosophical Inquiry Foundation | 3 |
| – | Natural World Foundation | 4 |
| | Total | 17 |
| | | |
| --- | --- | --- |
| CSCI-2150 | Intro to Computer Science II | 4 |
| CSCI-2560 | Discrete Math. Structures II | 3 |
| – | Aesthetic Foundation | 3 |
| – | Faith Foundation | 3 |
| – | Historical Inquiry Foundation | 3 |
| | Total | 16 |
Junior Year
| | | |
| --- | --- | --- |
| CSCI-3100 | Database Systems | 4 |
| CSCI-3570 or CSCI-3600 | Theory of Automata or Concepts of Prog. Lang. | 3-4 |
| – | Aesthetic Foundation | 3 |
| – | Faith Foundation | 3 |
| – | Elective | 3 |
| | Total | 16-17 |
| | | |
| --- | --- | --- |
| CSCI-3500 | Algorithm Design & Analysis  | 4 |
| MATH-3400 or – | Cryptography or Philosophical Inquiry Foundation | 3 |
| CSCI | Elective | 3 |
| – | Person and Community Foundation Elective | 3 |
| – | Elective | 3 |
| | Total | 16 |
Senior Year
| | | |
| --- | --- | --- |
| CSCI-3570 or CSCI-3600 | Theory of Automata or Concepts of Prog. Lang. | 3-4 |
| CSCI-4200 | Computer Architecture | 4 |
| CSCI-4920 | Software Engineering | 3 |
| – | Electives | 3 |
| | Total | 16-17 |
CSCI-4400
Op. Systems & Network
4
CSCI-4930
Senior Capstone
2
MATH-3400 or 

–

Cryptography or Philosophical Inquiry Foundation
3
CSCI-COMP
Senior Comprehensive
cr
–
Electives
3
Total
12
Other Department Offerings
Minor in Computer Science
Major in Mathematics
Minor in Mathematics