Civil Engineering
Bachelor of Science, School of Engineering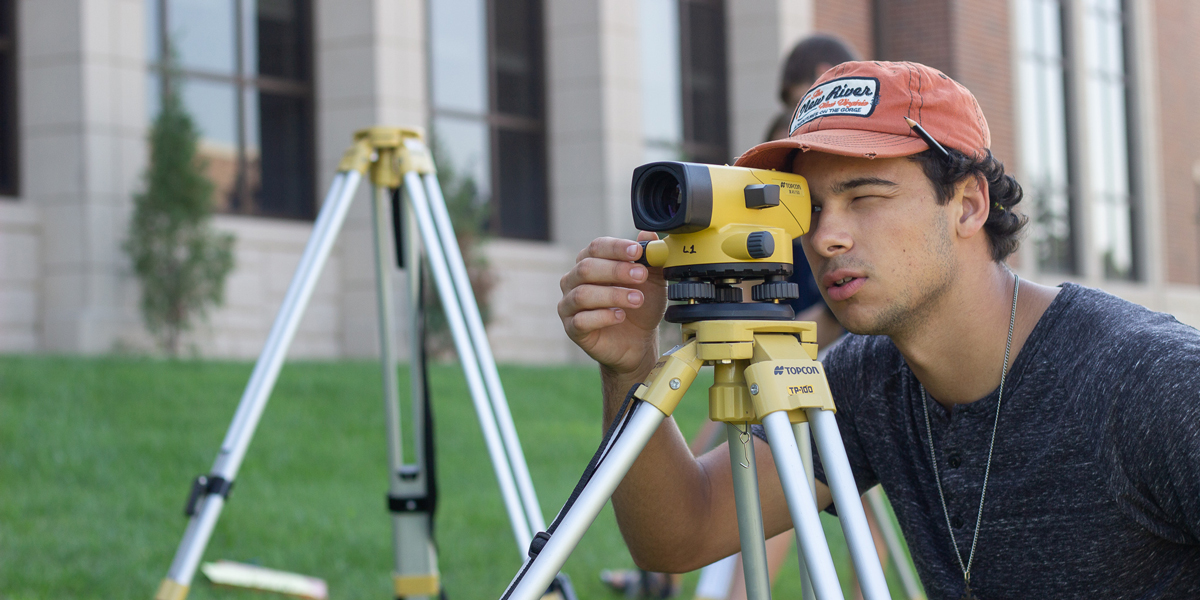 Department Overview
The mission of the Benedictine College School of Engineering is to provide a multidisciplinary engineering undergraduate education built on an authentically Catholic liberal arts foundation. Graduates of the program will be professionals who are excellent problemsolvers, committed to the highest ethical standards, and proficient communicators. They will understand the role of engineering as a profession and their duty, as engineers, to promote the common good of society.
Degree Objectives
Balanced & Responsible: Graduates will maintain a balanced lifestyle pursuing what is good, true, and beautiful. As they live out their vocation, they will contribute significantly to personal, family, workplace, community, and church endeavors.
Competent & Creative: Graduates will demonstrate technical knowledge and expertise in their profession and will innovate beyond the state of the art.
Communicate & Lead: Graduates will demonstrate interpersonal and professional skills so as to effectively lead teams and projects of substantial size.
Career Opportunities*
The median annual wage for civil engineers was $

84,770

in May 2017.
Employment of

civil 

engineers is projected to grow 11 percent from 2016 to 2026, faster than the average for all occupations. Job prospects may be best for those who stay abreast of the most recent advances in technology.
* Bureau of Labor Statistics, U.S. Department of Labor, Occupational Outlook Handbook, Civil Engineers
Juan Carlos Araque, Ph.D.
Assistant Professor
Sean Bauer
Lab Manager
Michael Berry
Assistant Professor
Scott Blonigen, Ph.D.
Assistant Professor
Peter Merkle, Ph.D.
Associate Professor
Darrin Muggli, Ph.D.
Professor & Department Chair
Scott Newbolds, Ph.D.
Associate Professor
Patrick O'Malley, Ph.D.
Associate Professor
Charlene Smith
Adjunct Lecturer
Steve Spencer
Assistant Professor
Charles Sprouse III, Ph.D.
Assistant Professor
Freshman Year
| | | |
| --- | --- | --- |
| ENGR-1200 | Introduction to Engineering | 2 |
| PHYS-2100 | Classical Physics I | 4 |
| CHEM-1200 | General Chemistry I | 3 |
| CHEM-1201 | General Chemistry I Lab | 1 |
| MATH-1300 | Calculus I | 4 |
| EXSC-1115 | Wellness for Life | 1 |
| GNST-1000 | BC Experience | 1 |
| | Total | 16 |
| | | |
| --- | --- | --- |
| ENGR-1100 | Technical Drawing | 2 |
| PHYS-2110 | Classical Physics II | 4 |
| CHEM-1210 | General Chemistry II | 3 |
| CHEM-1211 | General Chemistry II Lab | 1 |
| MATH-1350 | Calculus II | 4 |
| ENGL-1010 | English Composition | 3 |
| | Total | 17 |
Sophomore Year
| | | |
| --- | --- | --- |
| CIVL-2000 | Computing in Civil Engineering | 1 |
| ENGR-2300 | Statics | 3 |
| CIVL-2150 | Geomatics Laboratory | 2 |
| MATH-2300 | Calculus III | 4 |
| PHIL-1750 | Principles of Nature | 3 |
| THEO-1100 | Introduction to Theology | 3 |
| | Total | 16 |
| | | |
| --- | --- | --- |
| ENGR-2310 | Dynamics | 3 |
| ENGR-2320 | Mechanics of Materials | 3 |
| MATH-3100 | Differential Equations | 3 |
| – | Aesthetic Experience | 3 |
| – | Basic Science Elective | 4 |
| | Total | 16 |
Junior Year
| | | |
| --- | --- | --- |
| CIVL-3510 | Structural Mechanics | 3 |
| ENGR-3150 | Statistical Data Analysis | 3 |
| ENGR-3300 | Fluid Mechanics | 3 |
| THEO-2000 | Christian Moral Life | 3 |
| CIVL-4120 | Soil Mechanics | 3 |
| | Total | 15 |
| | | |
| --- | --- | --- |
| CIVL-3010 | Soil Mech. & Civil Materials Lab | 2 |
| CIVL-3310 | Environmental Engineering | 3 |
| CIVL-3230 | Hydraulic Engineering | 3 |
| CIVL | Technical Elective I | 3 |
| PHIL-3250 | Ethics | 3 |
| | Total | 15 |
Senior Year
| | | |
| --- | --- | --- |
| CIVL-3020 | Env. & Hyd. Engineering Lab | 2 |
| CIVL | Technical Elective II | 3 |
| CIVL | Technical Elective III | 3 |
| ENGR-3170 | Engineering Econ. & Society | 3 |
| – | Faith Foundation | 3 |
| – | Foreign Language | 4 |
| | Total | 18 |
| | | |
| --- | --- | --- |
| CIVL-4600 | Civil Engineering Design  | 3 |
| CIVL | Technical Elective IV | 3 |
| CIVL | Technical Elective V | 3 |
| – | Foreign Language | 4 |
| – | Historical Inquiry | 3 |
| | Total | 16 |
Final Semester
| | | |
| --- | --- | --- |
| CIVL-4700 | Civil Engineering Seminar | 1 |
| CIVL | Technical Elective VI | 3 |
| CIVL-COMP | Senior Comp Examination | cr |
| – | Engineering Elective | 3 |
| – | Philosophical Inquiry | 3 |
| – | Historical Foundation | 3 |
| – | Aesthetic Experience | 3 |
| | Total | 16 |
Total Program Credits: 145