Biochemistry
Bachelor of Science, Department of Chemistry and Biochemistry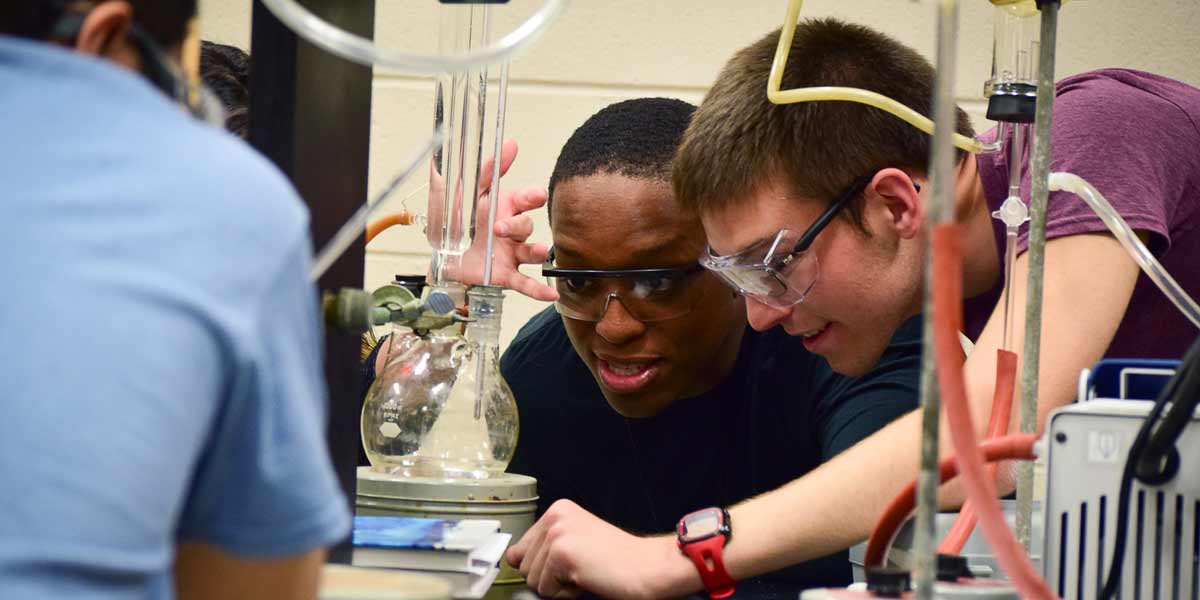 Department Overview
The Department of Chemistry and Biochemistry develops students' foundations in the chemical sciences that are integral to many disciplines in today's high-technology society. Successful completion of a chemistry or biochemistry degree prepares students for entry into many different fields including medicine, dentistry, pharmacy, materials science, medicinal chemistry, synthesis, environmental, forensics, drug discovery, biotechnology, molecular biology, and research.
Degree Objectives
Prepare students for graduate studies in biochemical sciences
Prepare students for professional studies in medicine, law, or the allied health sciences.
The recommended sequence of courses for the baccalaureate degree in biochemistry also fulfills all requirements for pre-professional preparation in medicine, dentistry, medical technology, pharmacy, veterinary medicine, and other health-related programs.
Career Opportunities*
Employment of biochemists and biophysicists is projected to grow 11 percent from 2016 to 2026, faster than the average for all occupations.
The median annual wage for biochemists and biophysicists was $82,180 in May 2016
* Bureau of Labor Statistics, U.S. Department of Labor, Occupational Outlook Handbook, Biochemists and Biophysicists.
Gail Blaustein, Ph.D.
Associate Professor and Chair
Patrisha Bugayong, Ph.D.
Assistant Professor
Sarah Harris, Ph.D.
Assistant Professor
Paul Steinbach, Ph.D.
Professor
Larry Sutton, Ph.D.
Associate Professor
Freshman Year
| | | |
| --- | --- | --- |
| BIOL-1121 | General Biology I | 5 |
| CHEM-1200 | General Chemistry I | 3 |
| CHEM-1201 | General Chemistry I Lab | 1 |
| MATH-1300 | Calculus I | 4 |
| ENGL-1010 | English Composition | 3 |
| GNST-1000 | BC Experience | 1 |
| | Total | 17 |
| | | |
| --- | --- | --- |
| BIOL-1122 | General Biology II | 4 |
| CHEM-1210 | General Chemistry II | 3 |
| CHEM-1211 | General Chemistry II Lab | 1 |
| MATH-1350 | Calculus II | 4 |
| THEO-1100 | Introduction to Theology | 3 |
| EXSC | Fitness course | 1 |
| | Total | 16 |
Sophomore Year
| | | |
| --- | --- | --- |
| CHEM-2200 | Organic Chemistry I | 3 |
| CHEM-2201 | Organic Chem I Lab | 1 |
| CHEM-3300 | Quantitative Analysis | 3 |
| CHEM-3301 | Quantitative Analysis Lab | 1 |
| PHYS-2100 | Classical Physics I | 4 |
| – | Historical Foundation | 3 |
| EXSC-1115 | Wellness for Life | 1 |
| | Total | 16 |
| | | |
| --- | --- | --- |
| CHEM-2210 | Organic Chemistry II | 3 |
| CHEM-2211 | Organic Chem II Lab | 1 |
| CHEM-3311 | Instr. Analysis Lab | 1 |
| PHYS-2110 | Classical Physics II | 4 |
| – | Aesthetic Foundation | 3 |
| – | Historical Foundation | 3 |
| PHIL-1750 | Principles of Nature | 3 |
| | Total | 18 |
Junior Year
| | | |
| --- | --- | --- |
| CHEM-3500 | Biochemistry I | 3 |
| CHEM-3501 | Biochemistry I Lab | 1 |
| CHEM-4900 | Chem/Biochem Colloq. | 1 |
| – | Foreign Language | 3 |
| – | Person and Community Foundation | 3 |
| – | Philosophical Inquiry Foundation | 3 |
| – | Elective | 3 |
| | Total | 17 |
| | | |
| --- | --- | --- |
| CHEM-3510 | Biochemistry II | 3 |
| CHEM-3511 | Biochem Methods Lab | 2 |
| CHEM-4901 | Chem/Biochem Colloq. | 1 |
| BIOL-4475 | Molecular and Cell Biology | 4 |
| – | Foreign Language | 4 |
| – | Faith Foundation | 3 |
| | Total | 17 |
Senior Year
| | | |
| --- | --- | --- |
| CHEM-3400 | Inorganic Chemistry | 3 |
| CHEM-3401 | Inorganic Chemistry Lab | 1 |
| CHEM-4550 | Mechanisms of Catalysis | 3 |
| CHEM-4801 | Research | 1 |
| CHEM-4902 | Chem/Biochem Colloq. | 1 |
| – | Aesthetic Foundation | 3 |
| – | Faith Foundation | 3 |
| EXSC | Fitness Course | 1 |
| | Total | 16 |
| | | |
| --- | --- | --- |
| CHEM-3800 | Physical Chem I | 3 |
| CHEM-3801 | Physical Chem Lab | 1 |
| CHEM-4811 | Research | 1 |
| CHEM-4903 | Chem/Biochem Colloq. (w/ Senior Sem. Presentation) | 1 |
| – | Electives | 6 |
| BIOC-COMP | Senior Comprehensive | cr |
| – | Philosophical Inquiry Foundation | 3 |
| | Total | 15 |
Other Department Offerings
Bachelor of arts in Chemistry
Bachelor of science in Chemistry
Prospective high school teacher course track
Minor in Chemistry