Athletic Health Care
Bachelor of Arts, Department of Health, Wellness, and Exercise Science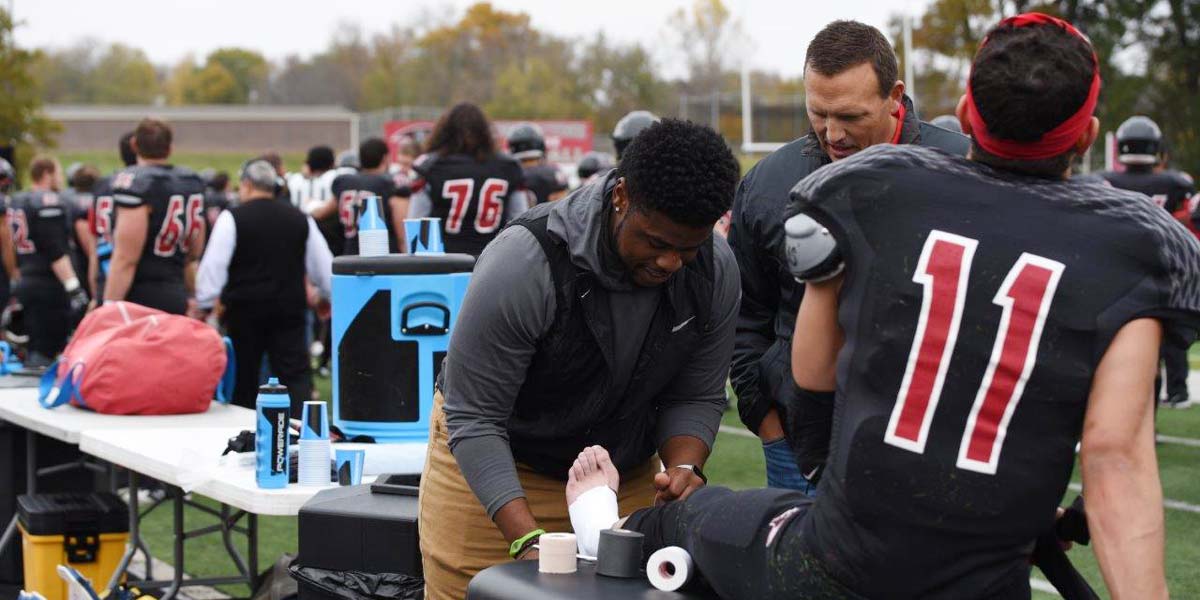 Department Overview
The Department of Health, Wellness, and Exercise Science is designed to prepare students for careers in health and physical education; the allied areas of strength and conditioning, coaching, athletic health care; leisure and sports management; as well as prepare students to pursue
graduate studies.
Students also have the opportunity to experience the learning of theory and discovery of application through practical extracurricular experiences, plus receive certification in first aid, CPR, strength and conditioning, and water safety.
Degree Information
Athletic Health Care majors must complete a swimming course or pass the proficiency test.
Athletic Health Care majors must purchase their own student malpractice liability insurance to enroll in any of the clinical practicum courses.
Career Opportunities
Hospital emergency departments
Intercollegiate athletics
Law enforcement and military
Occupational and industrial settings
Performing arts
Physician offices
Professional sports
Secondary schools
Sports medicine clinics
Jarod Crowley
Athletic Trainer/Instructor
Mary Flynn
Assistant Professor & Department Chair
Angela Humburg
Adjunct Instructor
Kylei Mason
Adjunct Instructor
Sharon Mathis
Professor Emerita
Jaclyn Pruitt
Instructor
David Slack, Ph.D.
Associate Professor & Director of Athletic Health Care
Jon Stammers, Ph.D.
Assistant Professor
Freshman Year
| | | |
| --- | --- | --- |
| GNST-1000 | BC Experience | 1 |
| – | Electives | 2 |
| EXSC-2210 | First Aid & Personal Safety | 2 |
| ENGL-1010 | English Composition | 3 |
| – | Person and Community Foundation | 3 |
| EXSC-2260 | Muscular Involvement in Resistance | 2 |
| EXSC-2263 | Care & Prevention of Athletic Injuries | 3 |
| | Total | 16 |
| | | |
| --- | --- | --- |
| – | Historical Foundation | 3 |
| – | Aesthetic Foundation | 3 |
| EXSC-1115 | Wellness for Life | 1 |
| – | Natural World Foundation | 4 |
| – | Oral Communication | 3 |
| EXSC-2209 | Personal & Community Health | 2 |
| | Total | 16 |
Sophomore Year
| | | |
| --- | --- | --- |
| ATHC-3374 | Recog & Eval of L.E. Athl. Injuries | 3 |
| ATHC-2212 | Beginning Clinical Practicum I | 3 |
| BIOL-2242 | Human Anatomy & Phys I | 4 |
| THEO-1100 | Introduction to Theology | 3 |
| EXSC-3303 | Basic Nutrition | 3 |
| | Total | 16 |
| | | |
| --- | --- | --- |
| ATHC-3364 | Recog & Eval of U.E. Athl. Injuries | 3 |
| ATHC-3362 | Therapeutic Modalities | 4 |
| ATHC-2213 | Clinical Practicum II | 3 |
| BIOL-2243 | Human Anatomy & Phys II | 4 |
| ATHC-3325 | Medical Terminology & Conditions | 2 |
| | Total | 16 |
Junior Year
| | | |
| --- | --- | --- |
| EXSC-3357 | Tests & Measurements in HWES | 3 |
| PHIL-1750 | Principles of Nature | 3 |
| ATHC-3312 | Clinical Practicum I | 3 |
| – | Foreign Language | 4 |
| – | Fitness Activity or Swimming Course | 1 |
| EXSC-3380 | Kinesiology and Biomechanics | 3 |
| | Total | 17 |
| | | |
| --- | --- | --- |
| ATHC-3361 | Therapeutic Exercise | 3 |
| EXSC-3366 | Physiology of Exercise | 3 |
| ATHC-3313 | Clinical Practicum II | 3 |
| – | Faith Foundation | 3 |
| – | Foreign Language | 4 |
| | Total | 16 |
Senior Year
| | | |
| --- | --- | --- |
| ATHC-4407 | Pharmacology | 2 |
| – | Philosophical Inquiry Foundation | 3 |
| – | Historical Foundation | 3 |
| ATHC-4412 | Clinical Practicum I | 3 |
| – | Mathematical Reasoning | 3 |
| ATHC-4406 | Admin. of Athletic Health Care | 2 |
| | Total | 16 |
| | | |
| --- | --- | --- |
| – | Faith Foundation | 3 |
| – | Philosophical Foundation | 3 |
| – | Electives | 3 |
| ATHC-4413 | Adv. Clinical Practicum II | 3 |
| ATHC-COMP | Senior Comprehensive | cr |
| – | Aesthetic Foundation | 3 |
| | Total | 15 |
Other Department Offerings
Teaching Physical Education & Health Coaching
Leisure Management
Sports Management
Minor in exercise science