Art Education
Bachelor of Arts, Department of Art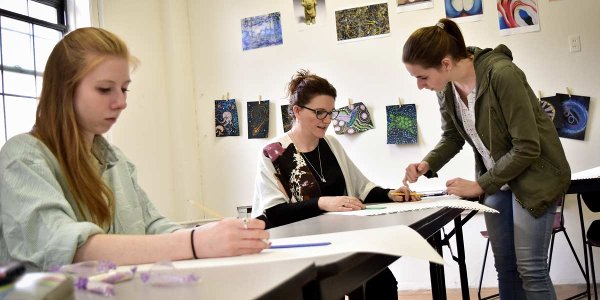 Department Mission
Recognizing the power of artists and the visual experience to enhance the lives of individuals and communities, the Art Department seeks to develop students' aesthetic, conceptual and technical abilities, in order to prepare them for a successful studio practice, graduate study, or a career in the arts and related fields. The Department also aims to provide the college and Atchison communities with opportunities to explore the creative aspect of the human spirit.
Degree Objectives
Coursework serves to develop students' aesthetic, conceptual, and technical abilities while exploring the creative aspect of the human spirit.
Related Careers
Employment of high school teachers is projected to grow 8 percent from 2016 to 2026, about as fast as average for all occupations. Rising student enrollment should increase demand for high school teachers, but employment growth will vary by region.*
The median annual wage for high school teachers was $58,030 in May 2016.*
* Bureau of Labor Statistics, U.S. Department of Labor, Occupational Outlook Handbook, High School Teachers, on the Internet here.
Art Faculty
John Haigh, M.Arch AIA
Assistant Professor of Architecture
Christopher Miller, Ph.D.
Professor of Architecture
Bryan Park, MFA
Associate Professor and Chair
Louis Reilly, MFA
Adjunct Instructor
Gary Rittermeyer, MFA
Adjunct Instructor
Jay Wallace, MFA
Assistant Professor
Education Faculty
Christi Adams, Ph.D.
Assistant Professor
Laura Bradfield
Adjunct Instructor
Lindsey Hansen
Adjunct Instructor
Dianna Henderson, Ph.D.
Professor
Erin McKelvy-Patterson
Adjunct Instructor
Pamela Pursel
Adjunct Instructor
Matthew Ramsey, Ph.D.
Associate Professor & Department Chair
Noel Rueb
Instructor
Brad Weaver
Adjunct Instructor
Piper Wentz, Ph.D.
Associate Professor & Dir. of Special Ed.
Freshman Year
| | | |
| --- | --- | --- |
| ENGL-1010 | English Composition | 3 |
| THEO-1100 | Introduction to Theology | 3 |
| GNST-1000 | BC Experience | 1 |
| EDUC-2200 | Intro to Education | 2 |
| EDUC-2201 | Intro to Education Research & Field Exp. | 1 |
| ART-1000 | Drawing I | 3 |
| – | Foreign Language | 4 |
| ART-1010 | Foundations of 2-D Design | 3 |
| | Total | 20 |
| | | |
| --- | --- | --- |
| ART-1030 | Foundations of 3-D Design | 3 |
| – | Foreign Language | 4 |
| PHIL-1750 | Principles of Nature | 3 |
| ART-2110 | Painting I | 3 |
| ART-2200 | Sculpture I | 3 |
| EXSC | Fitness Course | 1 |
| EXSC-1115 | Wellness for Life | 1 |
| | Total | 18 |
Sophomore Year
| | | |
| --- | --- | --- |
| – | Person and Community Foundation | 3 |
| EDUC-2222 | Psychology of Individuals with Except. | 3 |
| – | Art Studio (Printmaking) | 3 |
| ART-2800 | Basic Photography | 3 |
| – | Art History | 3 |
| SOCI-2300     | World Regional Geography | 3 |
| | Total | 18 |
| | | |
| --- | --- | --- |
| – | Natural World Foundation w/ lab | 4 |
| – | Faith Foundation | 3 |
| – | Art Studios (Ceramics) | 3 |
| EDUC-2220 | Psycoed Development | 3 |
| HIST-1100/01 | World Civilization | 3 |
| | Total | 16 |
Junior Year
| | | |
| --- | --- | --- |
| – | Philosophical Inquiry Foundation | 3 |
| – | Art History | 3 |
| – | Art Studio (Graphic Design) | 3 |
| ART-4457 | Methods of Teaching Art | 2 |
| EDUC-3312 | School as Community | 3 |
| EDUC-3313 | School as Community Div. Field Experience | 1 |
| | Total | 15 |
| | | |
| --- | --- | --- |
| EDUC-3332 | Reading in the Content Area | 3 |
| ART-3900 | Junior Seminar | 3 |
| – | Art Studios | 6 |
| EDUC-3357/58 | General Secondary Methods | 4 |
| | Total | 16 |
Senior Year
| | | |
| --- | --- | --- |
| – | Twentieth Century Art History | 3 |
| – | Art Studio | 3 |
| MATH-1220 | Introductory Statistics | 4 |
| ART-4900 | Professional Practices | 2 |
| EDUC-4451 | Philosophy of Education | 3 |
| | Total | 18 |
| | | |
| --- | --- | --- |
| EDUC-4455 | Differentiated Instruction | 3 |
| EDUC-4462 | Classroom Management | 2 |
| EDUC-4470 | Student Teaching Seminar | 1 |
| EDUC-4492 | Supervised Student Teaching | 5 |
| EDUC-4496 | Supervised Student Teaching | 5 |
| EDUC-COMP | Senior Comprehensive | cr |
| ART-4901 | Senior Exhibition Seminar | 1 |
| ART | Portfolio Review | cr |
| | Total | 17 |
Other Department Offerings:
Bachelor of Arts with Art Therapy Specialization
Major or Minor in Art
Bachelor of Arts in Architecture