President Minnis Receives CIV Papal Award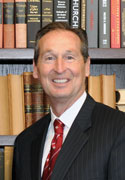 President Stephen D. Minnis of Benedictine College was honored by Caritas in Veritate (CiV) with the organization's Papal Award on Sunday, November 21, 2021, in Paradise Valley, Arizona. Other honorees included His Eminence Cardinal George Pell, noted author and journalist Raymond Arroyo, the former owners of the Phoenix Suns and Arizona Diamondbacks Joan and Jerry Colangelo, and retired colonel in the U.S. Army Medical Corps and religious sister of the Little Workers of the Sacred Heart, Sister Deirdre Byrne. 
CiV is a "confederation of Catholic institutions, dedicated to recruit, mobilize and engage volunteers, with particular focus on young people." It annually honors those who contribute to the success of its mission. Minnis is closely aligned with that mission as the leader of a Catholic institution of higher learning.
A native of St. Joseph, Missouri, Minnis graduated from Benedictine College in 1982. He obtained his Juris Doctorate degree from Washburn University in 1985 and Master of Business Administration degree in 1993 from Baker University. He served as an Assistant District Attorney and as General Attorney, Director, Regulatory Policy at Sprint Corporation before becoming President of Benedictine College in 2004.
Since 2004, Benedictine College has seen unprecedented growth. Fulltime undergraduate enrollment has increased from 1,000 students to over 2,000.  Benedictine has built 11 new residence halls and six academic buildings; has built or renovated every dorm room, classroom, and athletic facility on campus; built a Marian Grotto; opened a campus in Florence, Italy; began a nursing program, an engineering program, and an architecture program making it one of few liberal arts schools and Catholic schools in America with engineering and architecture.
During his presidency, Benedictine has been recognized by U.S. News and World Report as one of America's Best Colleges and by the Cardinal Newman Society as one of the top 20 Catholic universities in America. Under his leadership, the college has launched the Thompson Center for Integrity in Finance and Economics, the John Paul II Fellows, the Center for Eco-Stewardship, and the Center for Beauty and Culture. Recently, Benedictine College announced a new vision to Transform Culture in America.
Minnis is married to Amy (Kohake), a 1984 graduate of Benedictine College. The couple has three grown children, Matthew (Mary Katherine), Michael (Lauriane) and Molly (Matthew Harrison), and two grandchildren, Joey and Elle.
Founded in 1858, Benedictine College is a Catholic, Benedictine, residential, liberal arts college located on the bluffs above the Missouri River in Atchison, Kansas. The school is proud to have been named one of America's Best Colleges by U.S. News & World Report, the best private college in Kansas by The Wall Street Journal, and one of the top Catholic colleges in the nation by First Things magazine and the Newman Guide. It prides itself on outstanding academics, extraordinary faith life, strong athletic programs, and an exceptional sense of community and belonging. It has a mission to educate men and women within a community of faith and scholarship.